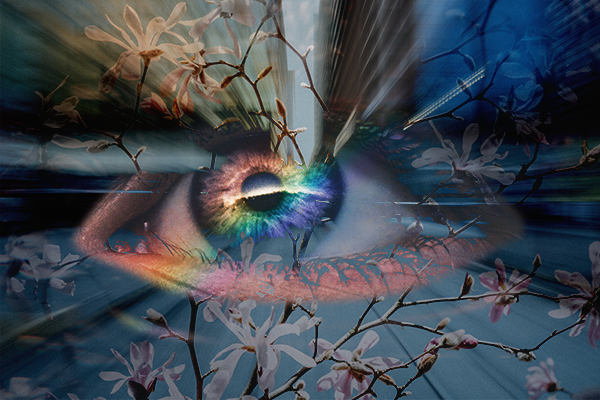 An open mind is a receptive mind. "What Will Eye Choose?" by Marie Ro
"It (Zen) is difficult because it is hard to keep our mind pure and our practice pure in its fundamental sense."
– D.T. Suzuki, Zen Mind, Beginner's Mind
"An impure mind" is not a moralistic reprieve. In the context of Zen, an impure mind is a mind cluttered with thought. It is difficult to quiet the mind, because thinking is our default setting. On a conscious, explicit level, we frequently engage in what cognitive psychology calls executive functions: planning out the day, reviewing our "to-do" lists, taking steps towards initiating a task, and so on. In this sense, thinking can be helpful because it helps us fulfill our goals and responsibilities; it helps us maintain the structure of our lives and our more adaptive habits. The mind is wired to think.
The mind is wired to think — and in this mode, it is endless. As you start (or maintain) your meditation practice, you will notice yourself coming back to a set of thoughts. Some of these thoughts are fleeting and nonsensical, others are more persistent. Some of these thoughts are amusing, others are sources of significant anxiety. As a built-in, natural function, stress is the mind's way of preparing you for an important event. Stress helps you gather the cognitive resources needed to "get something done". For example, "rumination", or the tendency to dwell upon a specific issue, involves cycling around a situation that needs to be resolved, but for some reason you are holding back. Sure, you can ask yourself, "Why?", but that may lead to a rabbit hole of endless rumination (and straight-up depression), so just be straightforward about it. Recognize and accept your reasons, and if you are satisfied with them, let the issue go. If not, then act towards resolving it, one step at a time. Once you cross-off something from your to-do list, the mind moves on to something else. It has accomplished its task. Stress is no longer needed as a response because the matter is "closed". Your mind is liberated from thinking about the problem, and you are stress-free (… until the next situation comes along, of course). Problem-solving really is that simple, but the mind can distort an issue to no end. Its job is to think, after all, and what will it do after the problem is solved?
The moment between our accomplishment and the next item on our to-do list: there is our chance to be.
There is seemingly no limit to what the mind wants to do, or what it wants to accomplish. It moves on from one thing to the next automatically, effortlessly. This is why Zen Buddhists affectionately call the ego mind, "monkey mind" – it swings from one desire to another – one problem to another – like a monkey climbing a tree. If it searches often enough, it might just come across a tasty banana. Maybe – if it's lucky enough – it will come across an entire bunch. The inconsistency of this reward and its possibilities are what makes the climb so enticing.
This is true of everything. In Buddhist Sanskrit terms, this constant wanting and striving is called samsara, and it is one of the major sources of suffering, because no accomplishment will feel like enough. The thinking mind evolved after eons of evolution because somewhere along the line the brain decided that it was more efficient to think through a problem instead of impulsively jumping in front of a bison because we need a source of food and maybe it won't try to maul us this time. Because it evolved out of a need for survival, the thinking mind is driven to pursue and acquire. It will not dispense joy until it gets what it wants, and even then, a sense of satisfaction is fleeting.
We are so used to thinking in this way that the prospect of an "empty mind" may become daunting. It is tempting to devalue an empty mind as stupidity when thinking is essential to survival. But the no-mind mode of thinking must be placed in its proper context. In Zen terms, it simply refers to a state of full receptive awareness; the silent pause between one note and another – one thought and the next. A non-dualistic way of being.
*
Think of the first time you tried to do something. In Zen Mind, Beginner's Mind, Shunryu Suzuki gives the following example:
Suppose you recite the Prajna Paramita Sutra only once. It might be a very good recitation. But what would happen to you if you recited it twice, three times, four times, or more? You might easily lose your original attitude towards it. The same thing will happen in your other Zen practices. For a while you will keep your beginner's mind, but if you continue to practice one, two, three years or more, although you may improve some, you are liable to lose the limitless meaning of original mind. (Suzuki, p.1).
If you are invested in learning something, there is a solid chance that you are immersed in the process. Mihaly Csikczentmihalyi, a prominent positive psychologist, calls this immersion "a state of flow". With Zen mind, you may notice things that an expert might miss, simply because you are observing them with fresh eyes. From the standpoint of cognitive science, all learning is like this. The best way to learn something is to study it assiduously, and more often than not this involves repetition. This is how some tasks become rote, and how expertise is gained through repeated experience. In workflow and productivity terms, this also means that only focusing on rote tasks is a quick route to burn out. Challenges keep the mind sharp. As such, one of the best ways to counter burn out is to return to whatever you were doing with the intent of a beginner.
On the flip side, this is also how repeated meditation practice helps cultivate and maintain the Zen state of mind. Awareness is brought to sensations; sensations are regarded with curiosity. Even a painful sensation may not be as intense as initially regarded, or may have other qualities that point to the true nature of a problem. The same is true for learning. Adopting a step-by-step approach with the curiosity of a beginner, instead of "going through the motions", can widen the scope of your interest and keep your perspective fresh. Sometimes the insight dwells where you least expect it.
References
Suzuki, D.T., & Dixon, T. (Ed.). (2010). Zen Mind, Beginner's Mind (40th anniversary edition). Shambhala Publications, Inc.